What happened on 24 February 2022 came as a shock not only to Ukrainians but to the whole world. Today, you will read four stories of Admind employees from Odesa who share their memories of that day.
Odesa is a vibrant port city that attracts youth not only by its seaside resorts and rich architecture but also by the free unique spirit of the South Ukrainian relaxed way of life. Here, Covid restrictions hardly ever were implemented. Here, in markets and bazaars, local people tell tons of jokes. Here, inside the courtyards, you can see a large diversity of people and buildings. Jewish accents, loads of fat stray cats, smells of fried fish, colourful towels and swimming suits drying outside, old wooden windows and fancy cafes, it is all Odesa. A city of mixes and freedom, sea breeze, and authentic lifestyle.
Admind welcomes Odesa, Odesa welcomes Admind
On one of these summer days in July 2018, Admind landed in Odesa. The team of seven locals started working together in the field of Presentation Design services: these were five designers, one office manager, and one team lead. During the first year, we had multiple visitors from Krakow who trained us, these complete newcomers – from zero, set the standards and launched services. Little by little, we started working as an independent office, solidifying our skills and gaining experiences year after year. We also welcomed the board for annual summaries and participated in local conferences and workshops.
The team were actively working from a central office, enjoying the company of each other, our morning coffee and small talks about city commute problems or the latest trends in design. We heard the lighthouse during storms on the sea, we went out for drinks and concerts, and even in covid times managed to hang out together occasionally. Odesa team has evolved into supporting independently Europe-wide requests for quality work. It was in 2020 when we had Odesa and Krakow colleagues from Presentation Design united into one team, becoming a team of 17 people in total.
Our Odesa team after February 2022
Early February, we gathered together, stressed by the tensions rising and yet never expecting it would twist our lives upside down in one snap. Our CEOs had a few calls with us previously, trying to set up a plan of action in case of Russian aggression. It's necessary to admit that we believed until the very end that this was just an emergency plan and we would not have to follow it.
And still, when the first bombs struck Odesa on the night of February 24th there was a shock. Three people from our team left the country. One week later three more designers fled along with family members. Four people stayed, including one active in the army. This was the start of the horrible events both in our home country and personal lives. We have to admit it was also the start of spotting beautiful caring people around.
Here we present parts of the personal stories of Admind team members from Odesa. We will leave you one-on-one with their voices.
It wasn't fireworks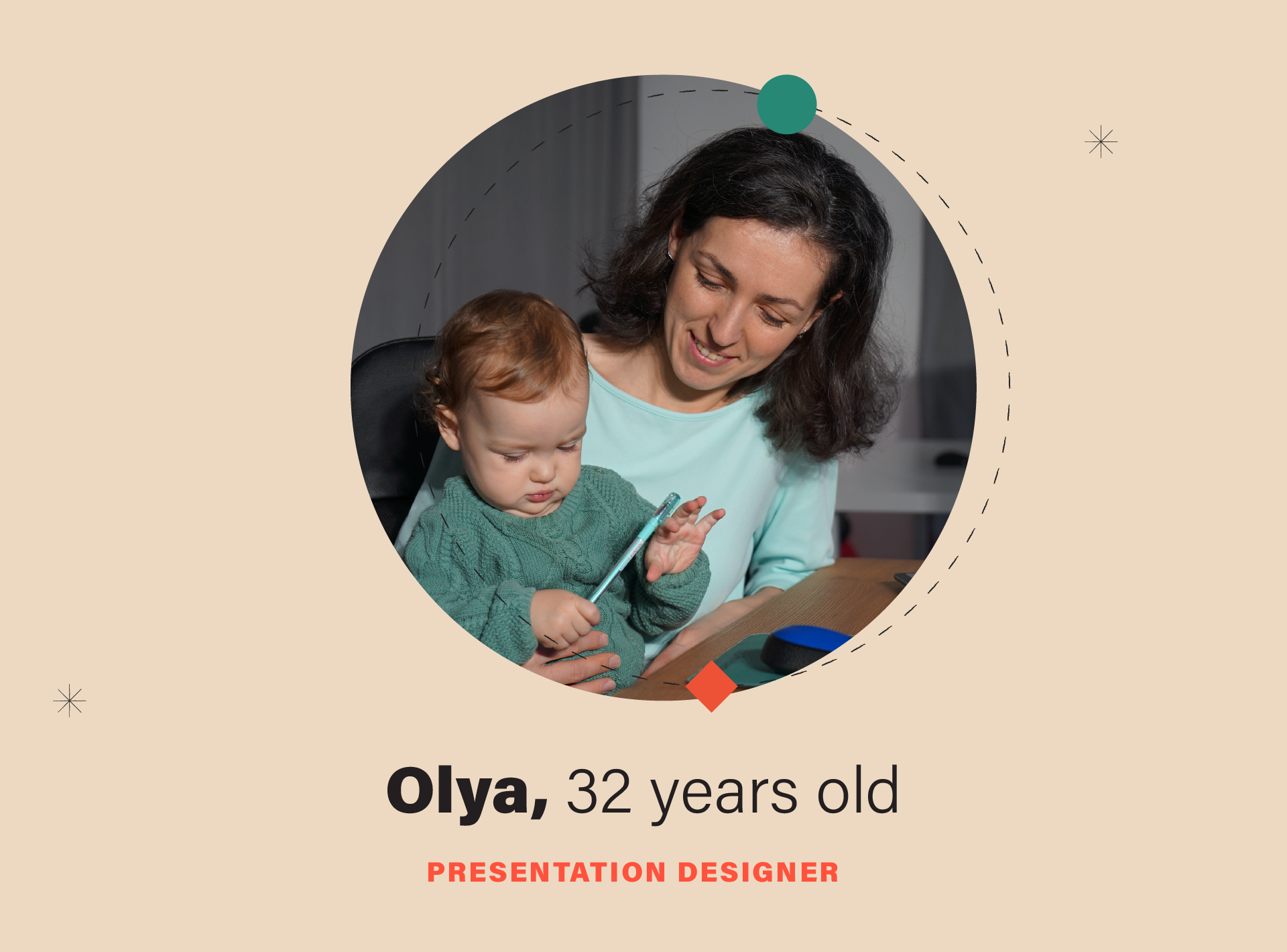 When my husband Sasha and I woke up on Feb 24th, 2022, I thought: "What the heck are those people celebrating with fireworks at 5.30 am?!" But it wasn't fireworks. Hour by hour (not day by day), the tension was getting stronger. Still, I couldn't believe that attacks were happening. Even with a 1,5-year-old baby, I wasn't thinking about leaving my home country. My whole family was staying in Odesa until Feb 28th. It was when Mateusz (CEO) called me on the phone: "Dear, you can come. We will help and support you". Immediately my husband made the decision: "You are grabbing the baby and leaving. Now I can be confident that there is someone who will help you". I was forcing myself to pack the suitcase while telling myself that it's for 2-3 weeks, and we will come back HOME soon.
At 3 am me and my daughter passed the Ukrainian-Moldavian border. My little girl waved goodbye to her dad, and he disappeared into the darkness with hundreds of car lights behind, with a smile on his face saying that everything will be all right! Getting to Krakow took us a whole week. After Chisinau (Moldova) there was Bucharest (Romania). And then Warsaw, and finally Krakow on March 5th.
The toughest part for me now is to see my child growing up without her father. It was vital for me and Sasha to raise our baby together. When she mumbles during the night sleep "Dad… park… used to walk" – she remembers those days when he took her for walks to the beautiful park we were living by. She is one year and nine months old at the moment. I feel like a single mom. Thanks to all the people who support me psychologically, thanks to my work, I am moving forward, trying not to think all the time about the war and whether my family and dear friends in Ukraine will wake up alive tomorrow morning.
It's been five months now. We faced different challenges, but I would never think that people could be so kind, so proactive, and so fast in taking decisions. In Moldova and Romania people who didn't know me at all, opened their homes. They helped with documents and provided food & lodging. When we had to move from Moldova to Romania, there was a man who gave his minivan with a full tank of gas to a stranger-volunteer who drove the car to the border. We were the first passengers, but after us there were many, many more Ukrainians in this minivan.
When Admind knew that we were coming, we had a 24/7 support, despite the fact that everyone still had their family and work, regular tasks and obligations. Krzysztof Klimek, our Creative Director, and his Family did so much for us. They not only let us live in their apartment but also arranged everything for us: from ear cleaning sticks and fresh linen prepared already on our beds to three types of milk in the fridge. From flowers on windows to toys and clothes for the baby. To say the least, I was surprised. And I hope you can understand how important that was since I packed the suitcase only with the most necessary things and with the thought that I'll come back in 2-3 weeks.
My child and I are safe now. Adminders and Polish people are highly empathetic. And my heart is thanking every soul who has been supporting us and other families in need, to those who have created the special fund. And when I say this, it's not even about the money, it's about the feeling — the confidence that I have a financial pillow to rely on in case of any emergency: with a child in a different country this is quite a huge mental support. When I was putting my baby girl to bed in Bucharest, I told her that when she grows up, I will be telling her about all the People who are helping us to get through this.
I'm exactly where I should be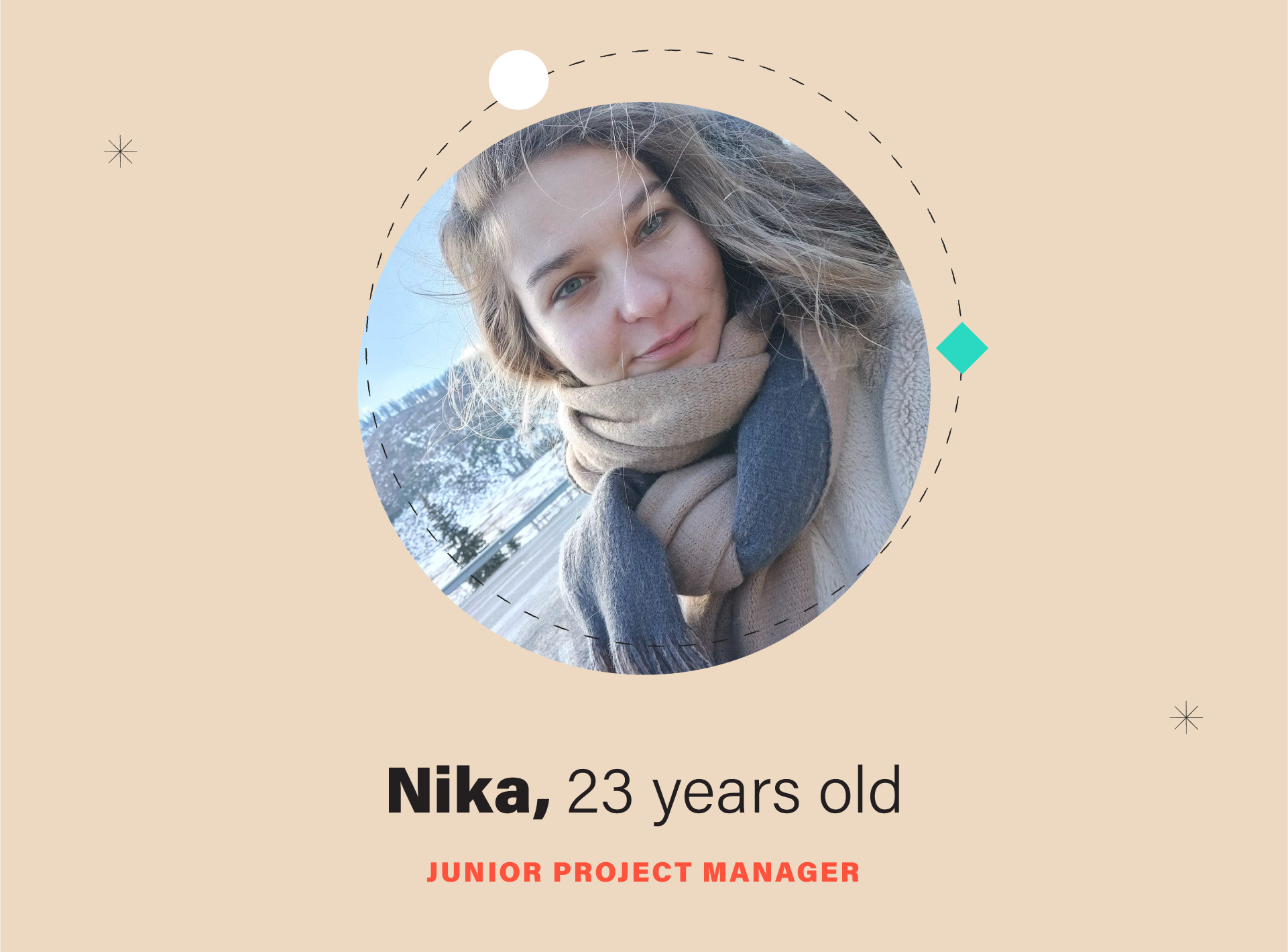 My story with Admind started with a feeling that I was exactly where I should be. My first working day was just 3 days before the war… But what amazed me the most on my second working day is that Admind proposed us to come and wait till the political situation will become calmer. At that moment I realized that I am in a highly conscious company, surrounded by people who care. What was happening after is still a mystery to me. We left on the first day with one more colleague, Yana and her friend. I was driving the car for almost four days non-stop to reach Krakow. This is where for the first time I met all my colleagues in person and saw their kind actions and unbelievable souls. On the day we reached the office, we saw dozens of bags with first necessity items already collected, we were accommodated and provided with all needed matters right away, but most importantly with security and total mental support.
Presentation Designer who joined the army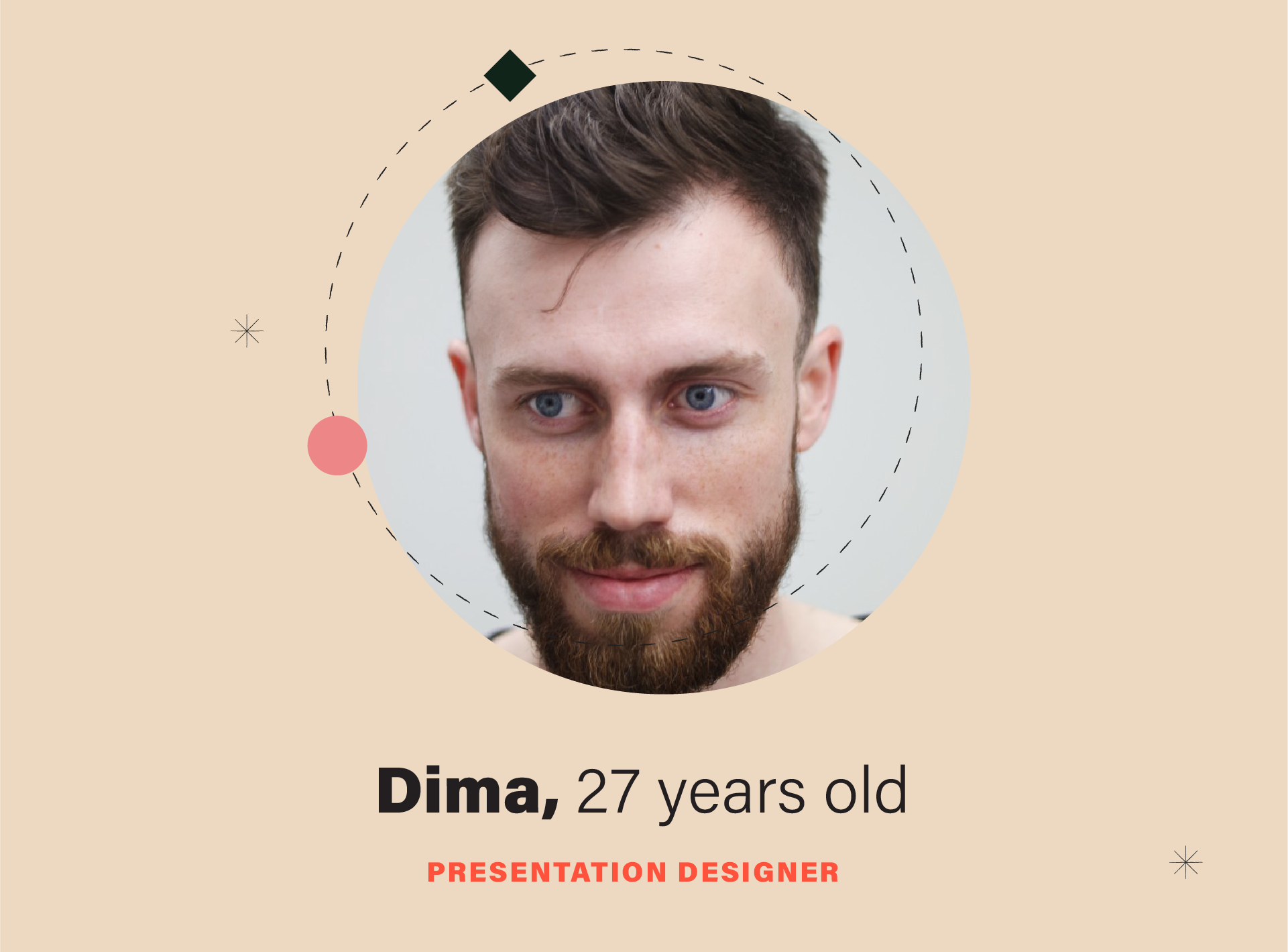 He joined Admind in 2019 after some diverse experiences: as a driver assistant in Odesa region, as a restaurant cook in Qatar, and as an administrator in a co-working space where he actually met the team and said he was honoured to join this bright team of designers. Later on, he completed his Bachelor's degree and start his Masters. In parallel, he was very much fond of long-distance jogging, and also was taking care of his little 5-year-old sister.
Life was smooth and pleasant, with all ups and downs, when suddenly the news stroke. We saw that Dima was experiencing strong anxiety and stress for weeks, and then one night it began…
It took Dima a few days to clearly decide to join the Armed Forces of Ukraine. Seeing the Russians with weapons on our land awoke strong feelings that he never even expected to have. All he could do to cope with them was to join the military to resist the barbarism in our home country. Now, his life for the last five months has seen very little of what used to be normal. Alerts and danger every day set one's mind in parallel dimensions, where friendship & loyalty go hand in hand with dreadful reality and inhumane sounds of this universe's cries.
Now Dima wants more than anything to work peacefully on his desktop, create designs, play with his little sister, eat out with his parents and friends, and live in his homeland in peace and freedom. He can't wait when we reach that point.
The most Ukrainian night in my life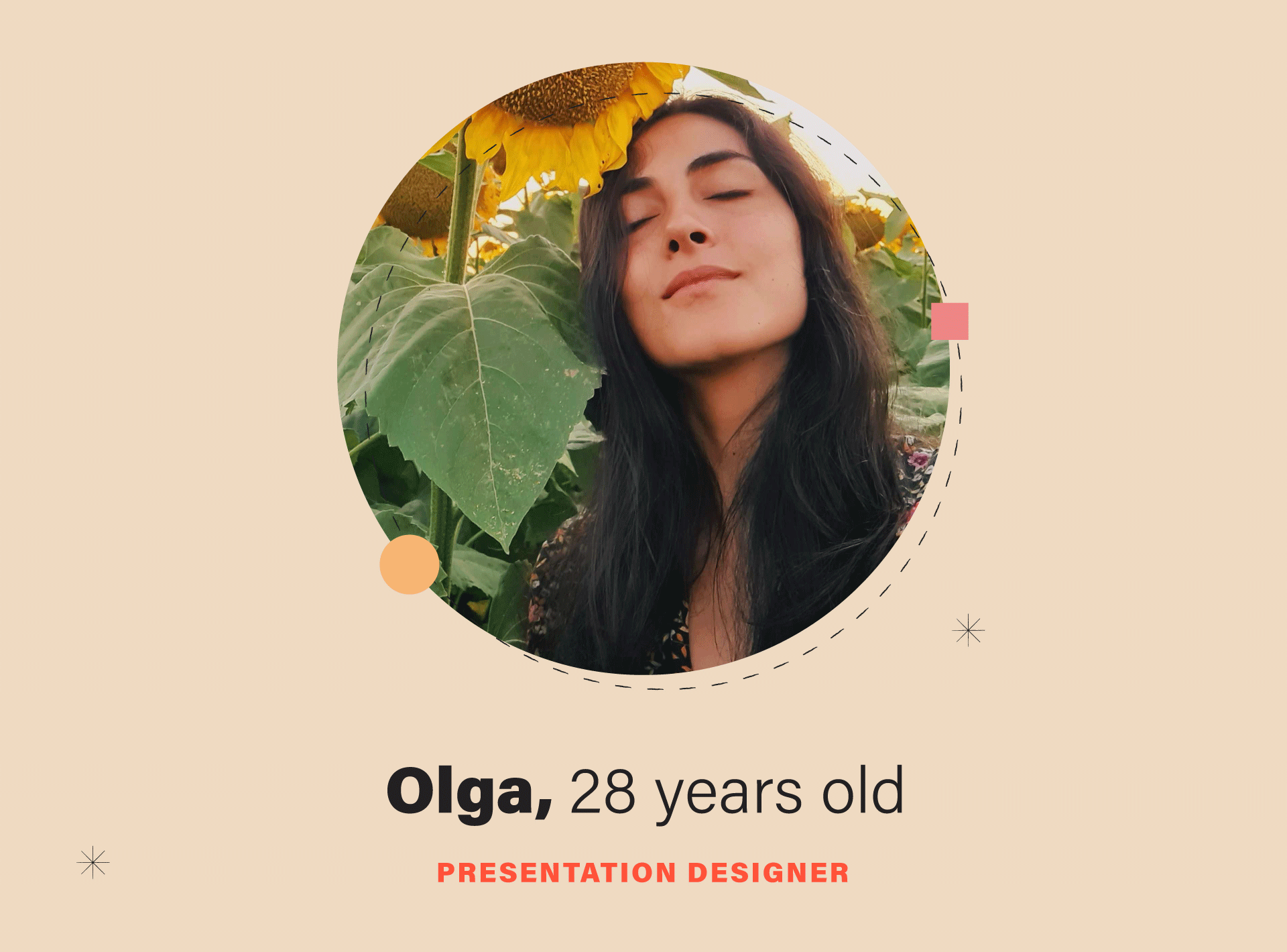 All my life, February 24 was a bright day, merely because it was my birthday. Unfortunately, now this date has another association. This year I didn't have a plan for my birthday. Maybe it's for the better. Luckily, I started celebrating it at 12 a.m., so there were more than four hours of joy left, but the wish I made obviously didn't come true. That night I listened to DakhaBrakha's performance at the Glastonbury festival. Then I turned on a playlist of Ukrainian songs. It was probably the most Ukrainian night in my life.
I was awake when Russian missiles and airstrikes hit across Ukraine. There were several explosions that I heard clearly, and I realized that it all had started. My boyfriend and I were standing in the parking lot at about 6 a.m. with a handful of things and a cat in the carrier, seeing people getting into cars and leaving one by one. It was terrifying. I recall thinking that I wanted to know whether me, my family and friends would still be alive tomorrow or in March.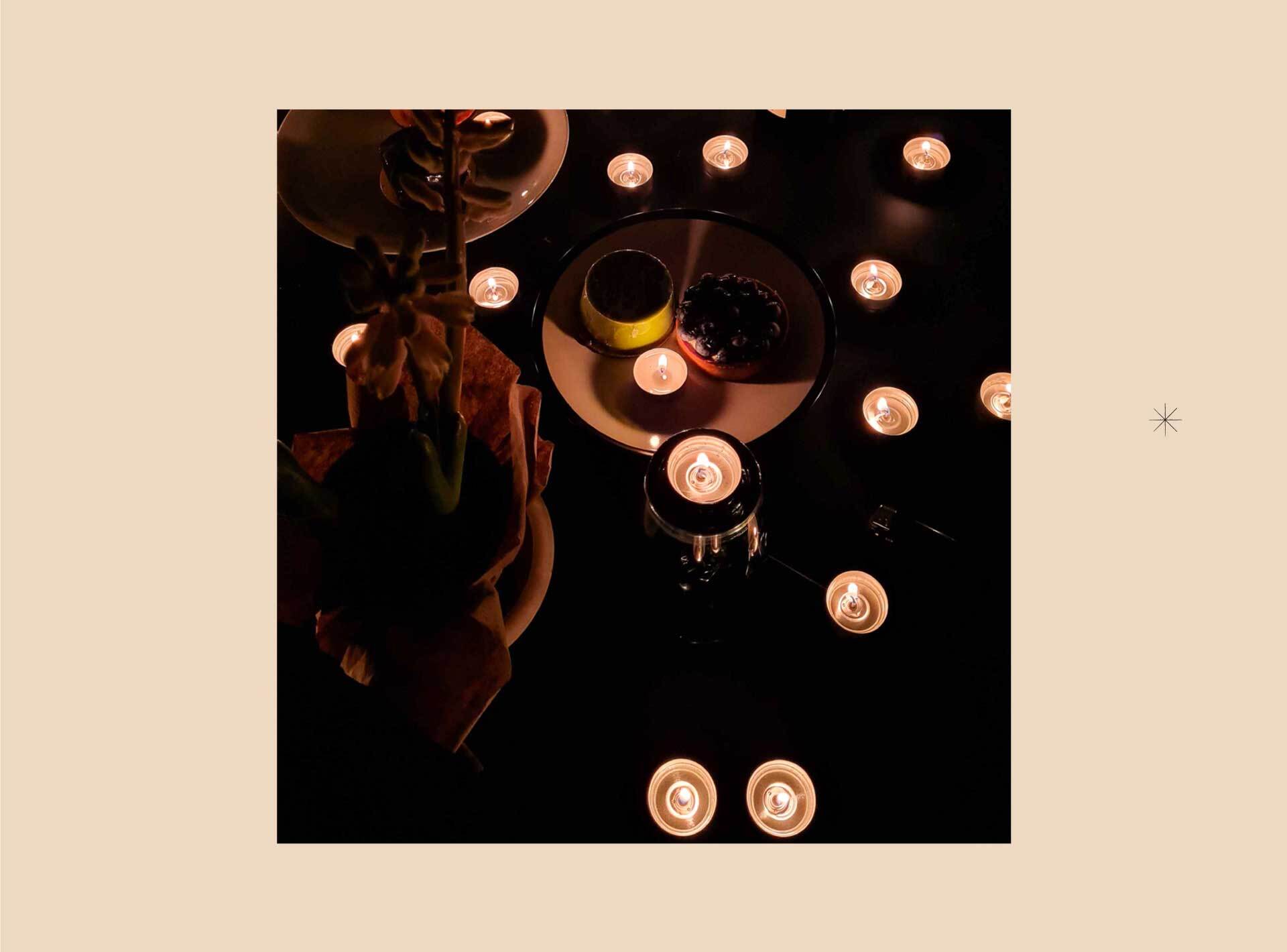 Between these two photos – 7 hours and the point of no return.
During the first months of the full-scale war, I experienced many different states and feelings. But the most memorable is rage and helplessness after knowing the facts of what the Russian troops were doing to our people, fear for loved ones, and – constantly – an expectation of death, that totally burned me from the inside. At the end of March, for the first time, I was able to start drawing something and express what I feel.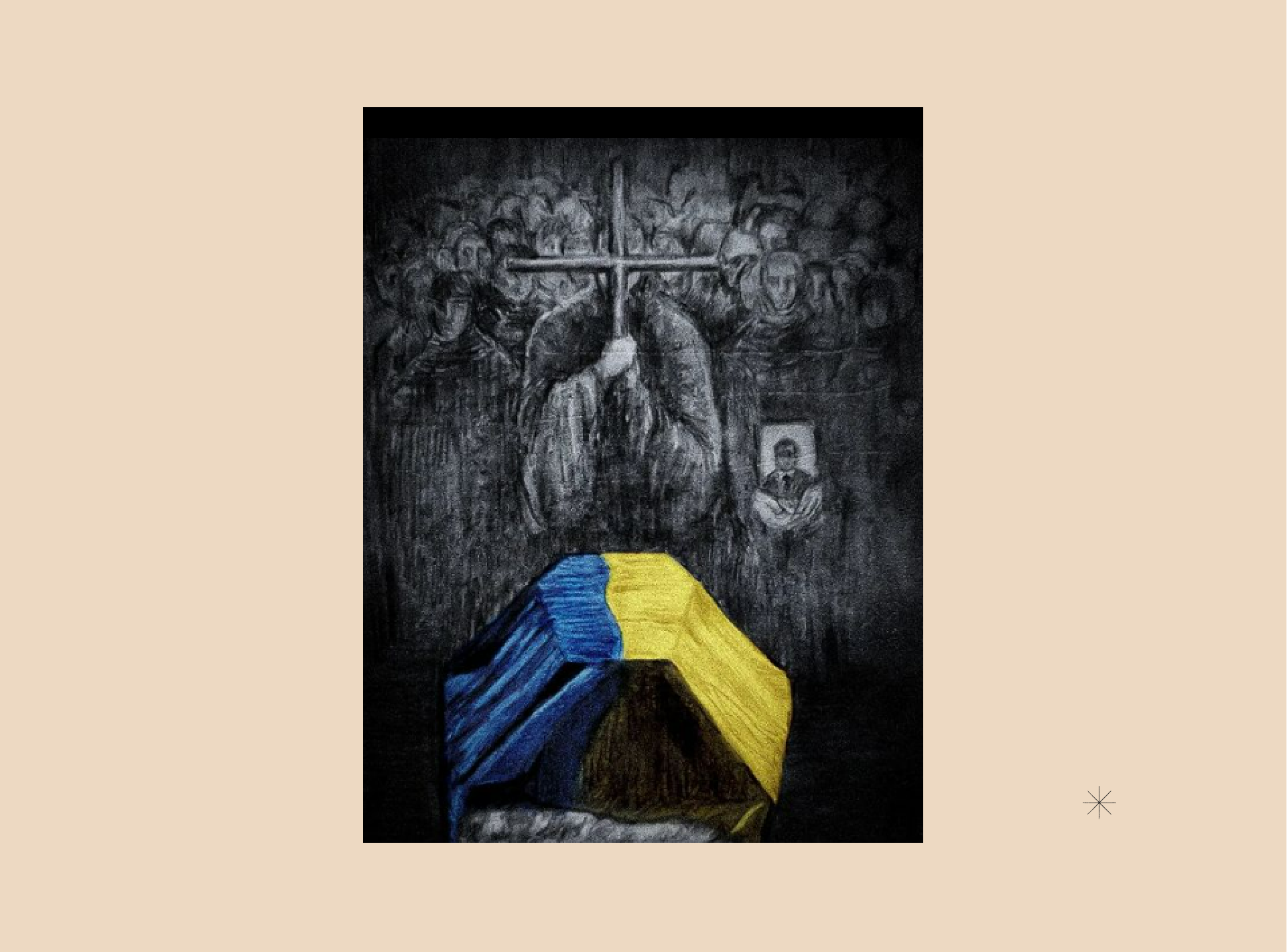 Going back, I remember that at the beginning of January people were already actively discussing the possibility of a Russian full-scale attack. It was the same with me. I talked about it with my family and friends. There was an anticipation that something terrible was going to happen, but many denied it. We also had a few calls with the team members in Odesa and Mateusz, our CEO at Admind, about developing a plan in case something happens. The plan was already established for that week, but the war broke out before.
After February 24th, I made a choice to stay in Ukraine. I am simply lucky to live here, in the South of Ukraine. I didn't want to leave the country, because, among other things, I am very attached to my home. Besides, leaving my family behind would tear me apart. Despite that, it was also risky to stay, so I thought for that moment that I could go. In the end, I'm glad I didn't panic too much and made this decision to stay.
I clearly admit that we would not have had this opportunity if not for our company and the many wonderful, caring people working here, who were constantly in touch with us. From the very first day of the massive Russian aggression, Admind was supporting our Odesa team – with all the necessary processes organization, raising money, 24/7 support, hosting Ukrainians, spreading the info, and creating different sorts of materials for the social media. They did everything they could to let us lean on them and cope with the situation. I feel blessed to work with people like this, especially in such extremely dark times. And it is no secret how much the Polish people have done for the Ukrainians since the start of the war. I believe all of us will remember this as an example of unconditional acceptance and understanding, sincere sympathy, selfless help and true friendship. We should all learn from this situation. As long as people are able to care for strangers so sincerely, this world is not doomed.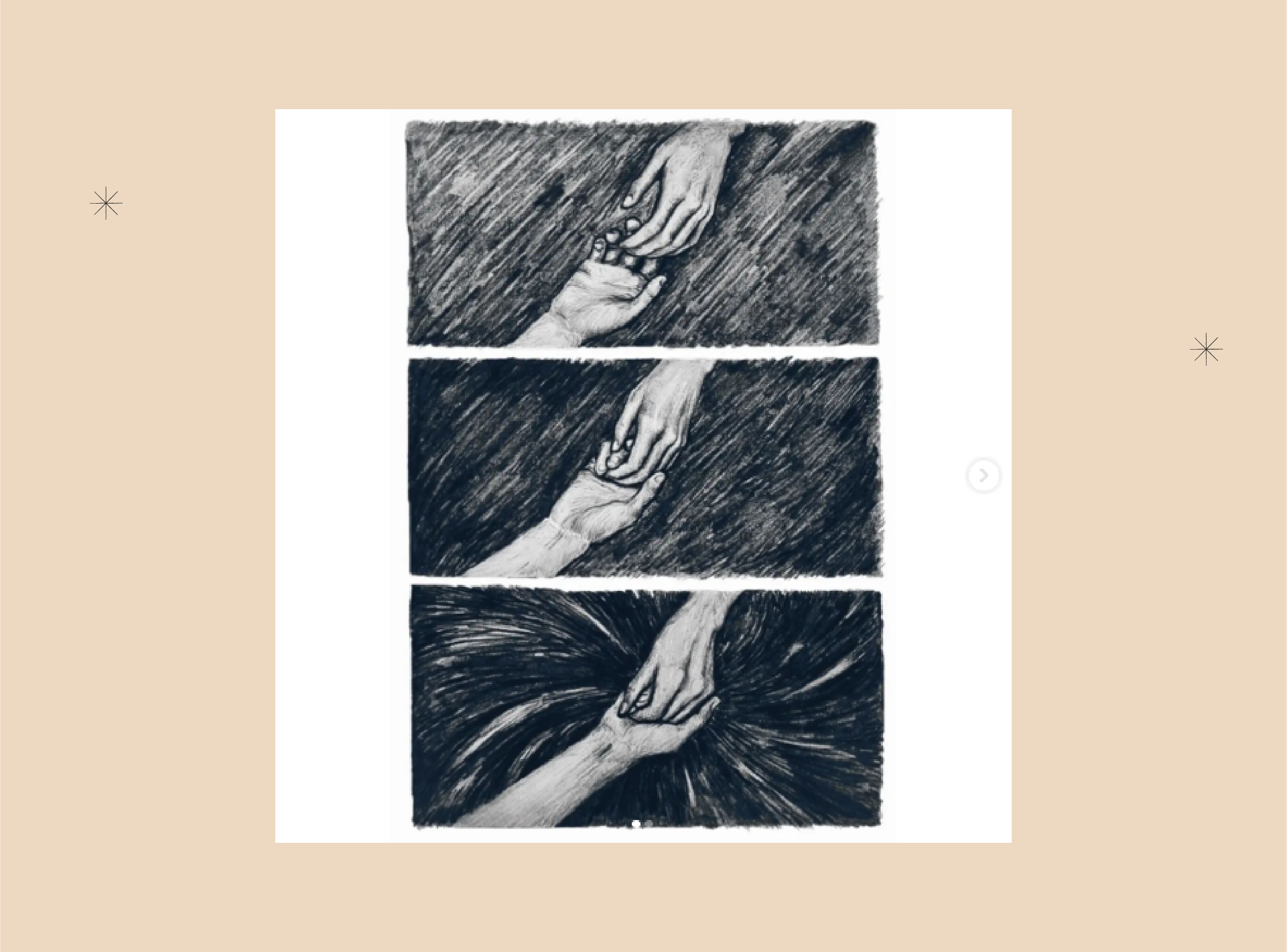 Admind support for Ukraine
These are only four stories that witnessed normality falling into sadness and fear. Only four stories of people who lost the basic need for physical security. Many millions of stories like these are now vibrating in the world. Millions of children, women and men have lost something fundamental. We know that our Odesa team is lucky in the Ukrainian realia. We had Admind friends close to us long before the war set off, and still are after those five months. These people, from the board to newjoiners, have donated mattresses, blankets, pillows, clothes, toys, hygiene materials, etc. from the first day of aggression.
These people have taken care of us having hot food upon arrival after a week-long journey. These are people who drove for hours to pick us up at some locations and bring us safely to Krakow. Who created #ua_support internal channel where the whole company migrated. Who came and asked if our kids needed a bike or notified us that the storm was coming; who shared reminders about public transport rules in Krakow. Who have donated serious sums of money to support not only their colleagues from Odesa but also multiple Ukrainian families in need. The amount raised by the team was doubled by the company to 42 000 PLN. Who have organized themselves into delivering humanitarian aid to refugee camps right to Uzhgorod in Ukraine, who crossed the city to buy and send medicals and trauma kits to the wounded in the east of Ukraine… These are beautiful people.
Our team is still working
Now, as seasons pass and Odesa team is dispersed all around the continent, we are continuing to work, creating designs, and providing high-quality services. But also, we are continuing to support Ukraine. Recently Admind conducted a public webinar with the known Ukrainian Banda agency speaking about the war and the impact that design can have. We are allocating the funds to support one of the life-saving institutions for kids and one supporting animals in Ukraine, we are taking our individual actions to show continuous support to Ukraine and its people, as this horrifying war keeps escalating.
Just as Admind friends expressed solidarity, unity and love to their Ukrainian colleagues, we hope that the world will overcome this doom. We stand with Ukraine, its sovereignty and freedom.